Investing 101: How, Where, When, and Why to Begin
Many people rely on investment accounts to help supplement their income and contribute to long-term wealth. The people that are the best at this are ones that have done their research, worked with professionals, and gained experience over the years. If you haven't started investing yet, it's not too late. Investing can help you accomplish your goals for the future and you don't have to be a professional to get good results. Instead, check out this article on investing 101: how, where, when, and why to begin.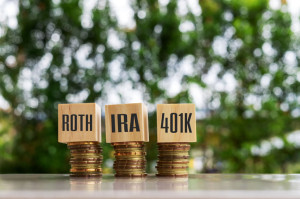 How to Invest
The thing that stops most people from investing is that they don't know how. As with anything, starting is the hardest part. Investing is simply putting away some of your current finances so that you can contribute to and build wealth for the future using the fluctuations in stock market shares and investments. The problem is that most people want to see results immediately. Investing won't give you this. Investing is about long term yield, so you need to be prepared to wait for growth.
If you're not sure how to start, there are a few steps you can take to help you build up your investing skills and portfolio.
Start Small
It might be difficult to bring yourself to put $500 into an investment account in one deposit, so start small. Try $10/week at first and slowly build up your contributions. Even if you put away $10/week, that still comes out to over $500 a year. That's a great first step, especially if you're a little skeptical.
Use an App
If you don't have a financial advisor or aren't exactly sure how to start, try using an app. There are tons of investment apps that are safe and easy to use, especially for first time investors. Some great apps are Acorn, Ally Invest, Wealthfront, and M1 Finance.
Enroll in a Retirement Plan
If you're not already enrolled in a retirement plan, it's time to do so. Contributing to a 401(k) or 403(b) is a great way to grow your wealth long term. Some employers offer fund matching while others have phenomenal interests rates. Talk to your employer about their retirement plan and enroll today. Investing in a retirement account is also a great first step for investing.
If you're self-employed or run a business, investing in retirement is a great tax write off. Just remember that if, for any reason, you make an early withdrawal, you will end up paying a penalty. To avoid this, start putting away a little bit at a time and slowly grow your contributions as you grow your emergency fund or your savings. This will ensure that if something comes up, you don't need to use your retirement investments as a backup.
Try Mutual Funds
For easy investment opportunities, try your hand at mutual funds. Mutual funds require a larger minimum investment, but their simple and easy to understand so they're good for first time investors.
Invest in Real Estate
A lot of people get nervous investing in real estate because the housing market is so unpredictable. But you don't have to have millions of dollars to invest in real estate. Check out your options for investing in real estate and do some research on crowd funding.
Where to Invest
The above list is a good start for how to begin investing, but once you get the basic understanding of how investing works and how it can benefit you, you'll want to make a take a few more steps. You can keep investing in the above, but you should also consider investing in some of the more profitable areas, especially index funds. Index funds will increase your investment diversification and help you reach all of the different market sectors. For example, a lot of people find success from investing in the following three sectors: Total U.S. Stock Market Index Fund, Total International Stock Index Fund, and Total Bond Market Index Fund.1 These investments can be a little more confusing, especially for beginners, so you can always work with a professional to ensure you're getting the right advice for your current finances.
The nice thing about diversification is that it gives you ample opportunities to grow your long-term wealth and substantially reduces risk. You know the old saying don't put all your eggs in one basket? Investment diversification ensures that this doesn't happen. It spreads your eggs into different baskets, so you reduce overall risk.
If you don't want to manage your own portfolio, that's okay too. Talk to a professional to get insight on how they can help you manage your cash flow, assess risk, and take care of your portfolio over time.
When to Start Investing
There's no equation to figure out when the best time for you to start investing is. In retrospect, it's right now. Even if you don't think you have the funds to start investing, you can't afford not to. The sooner you start your investments, the more opportunities you'll get and the larger your long-term wealth will be. Investing is a way to set up passive income for the rest of your life, so when you try to justify it by not having enough expendable income in this very moment, it's time to reevaluate your expenses. You can afford to spare a few dollars here and a few dollars there for investment accounts. Like we said, you can't afford not to. Successful investors are those who "take risks," yet the only real risk their taking is giving up $10 here and there for long term wealth in the future. Average returns on investment are too high to ignore and investing something is better than investing nothing. Plus, you'll save money at the end of the year in taxes, so there's really no question as to why you can't afford to invest.
Why Should You Invest?
Investing is a great, and easy, way to grow your long-term wealth. The longer you wait to invest, the less money you'll get from investment growth and savings. Interest rates are low, but inflation keeps rising, so investing will make sure that you continue to get consistent returns regardless of the economy. It might take some time for you to get comfortable with the idea of investing, but you'll get nowhere if you don't start.
Investing can substantially reduce the amount of taxable income that you claim at the end of the year. While you won't be able to access this money immediately, you'll contribute to your future and keep more of your hard earned money in your pocket. To help you get the most out of your investments, talk to a certified tax coach like the ones at Del Real Tax Group.
If you're interested in investing or tax implications to your current investments, but don't know where to start, contact the professionals at Del Real Tax Group today. We specialize in helping small businesses maximize profits and each one of our accounts work to give you personalized service and attention. Our certified tax accountants can help you with innovative strategies to get more money back in your pocket. Since we're committed to working with small business owners, we've developed a specialized niche that allows us to give 100% of our concentration on our clientele. Our primary goal is to help you save thousands of dollars in taxes a year! See how we can help by contacting us or calling us at 708-788-0082 today.
Source:
1https://blog.turbotax.intuit.com/income-and-investments/401k-ira-stocks/investing-101-how-where-when-and-why-to-begin-45555/
Sign up for our Newsletter: